You are here
launch of digital learning in Isenda primary school-kigandalo subcounty.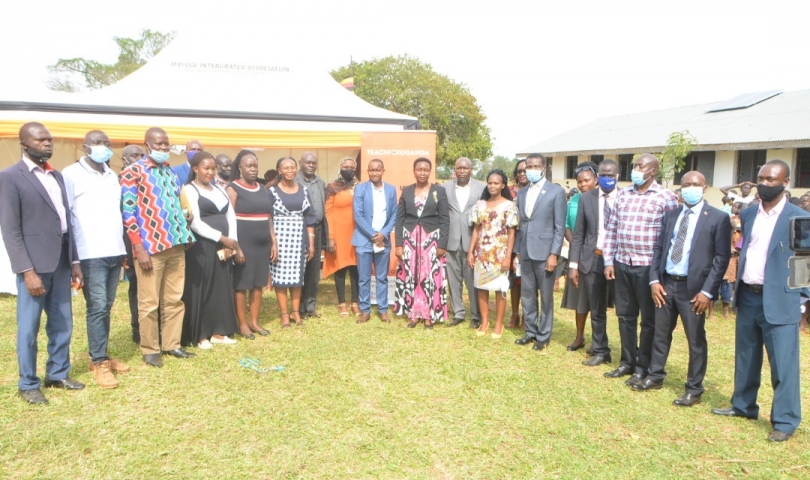 Recently , mayuge district was delighted to have launched a digital learning program in isenda primary school-kigandalo sub county that was spear headed by Teach for uganda, a non profitable organisation that is operating in mayuge district aiming at transformung the education outcomes of less previlleged children through improving their achievements and aspirations and War child-holland, and supported by the ministry of education and sports.
launching of can't wait to learn and good school kits project was done by teach for uganda who invited the state minister for education Rosemary Ssenidde and the commissioner for basic education in uganda, Cleophas mugeni who officiated the program on the 26th march 2021 at isenda primary school.
in her communication, the minister congraculated teach for uganda for patnering with  war child-holland to launch digital learning in the school and also for the wonderful job they were doing in mayuge district and the education sector at large. she also added that the MOES had finalised the digital education strategy and will be soon be commisioned so the uganda joins the rest of the world in digital learning. she said that digital learning had already been incorporated in the teaching policy therefore the uganda will have ha bright future as digital learningis concerned.
she also urged the pupils and teachers to fight absenteeism,late coming and school dropout of pupilsin schools. she appealed to the community to desist from vandalism and theft of the property that had been brought to the school which included the solar panels as well as tha learning tablets (computers).
she finally wished the candidates success in the upcoming exams.
Among other diginitories present at the function were Hon . Kubeketelya James- member of parliament for bunya east, Hon. Idi Isabirye-member of parliament for bunya south, district councillors, technical staff amng others.